Home > information center
| | |
| --- | --- |
| | Top things to do in Hangzhou |
top things to do in Hangzhou
What to See in Hangzhou
What to Do in Hangzhou
Impression of Westlake Show

Impression of West Lake (印象西湖) is an amazing show worth watching when traveling to Hangzhou. Directed by Zhang Yi Mou, who was the director of the opening ceremony for 2008 Beijing Olympic Games and also directed Impression Sanjie Liu, the show is put on by a cast of 250 locals dancing at the stage. The stage is submerged half in the West Lake and takes the beautiful backdrop of pagodas and temples.

The hour-long show presents the famous Ten Sights of West Lake on the stage. In fact the whole performance consists of several story lines by showing different ancient stories and famous people. If you are not familiar with the culture, it is not easy to understand. However, that does not affect your experience in this excellent show combining amazing lights and music. By the way, the enchanting music of Kitaro adds charm to the show.

The seats are in the open air and there are cheap tickets and VIP seats. Actually do not waste money on pricier tickets. There is not much difference between them. A cheap ticket will just maximize your time. Spring maybe a little bit cold and in summer night remember to use the repellent.

Add:

No.29, Yanggongdi, Hangzhou City

Show time:

19:45-20:45; 21:15-22:15

Price:

260 Yuan/person for ordinary seats

Getting there:




Take Bus Nos 7/27/81 and get off at Yumiao Station(岳庙站).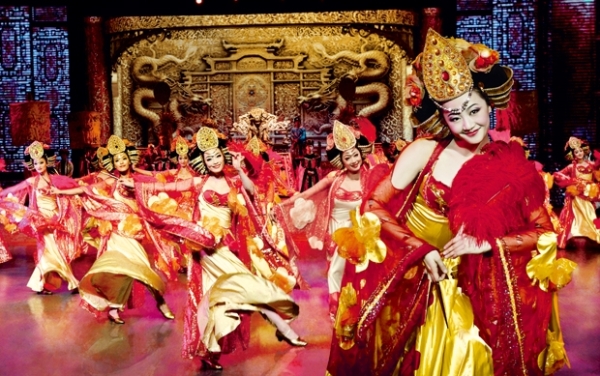 Hangzhou Songcheng
In the southwest of West Lake Scenic Area, Songcheng (宋城) is the most popular theme park in China. There are many castles in the park creating actual feeling of the Song Dynasty, which makes one feel walking back to those times and experience the same. After those castle walls local Hangzhou street foods are provided. In the park you will see some people dress up like ancient soldiers going around on horses. Many funny activities like Ghost House, Puppet Shadow Play and Tunnels are offered. What you should really expect is the theater show after 19:00!
The shows tells a love story of how the leadership of the Song Dynasty beat back the invasion from Tibet and Mongolia by music, dancing, visuals and fancy costumes with a cast of about 150 actors. Four acts make up the whole show. Each chapter will have a short line in English explaining the act. Given the splendor of the show, a few explanations are enough.
Add:

No.148, Zhijiang Road, Hangzhou City

Opening Hours:

10:00-21:00 for the theme park and 19:00 for the show

Admission:

280 Yuan/person for the ordianary seat; 300 Yuan/person for VIP seat and 480 Yuan/person for VVIP Seat. The fee includes the admission and the night show.

Getting there:
Take Bus No Y4/Y5/Sightseeng 8/201/308/354/504/658 and get off at Songcheng Stop (宋城站).
What to Eat in Hangzhou
Grandma's Restaurant (Hubin Road)

Grandma's Restaurant (外婆家) is almost recommended by everybody in town and when you go there, you will not be wrong. They have several locations in the city but what we recommend is the one on Hubin Road since it takes the backdrop of West Lake. They offer yummy local Hangzhou food at very reasonable price. A bowl of Ma Po Dou fu only takes you 3 Yuan!

Every dish worth trying and specialties are chili shrimp, tea flavored chicken, Grandma's fish balls, Mapo Tofu (hot and spicy tofu), and dissert made with fresh lotus seeds and sticky rice. Different kinds of tea they offer are also very tasty and you could have them for free. Environment and service are surely worth every penny. The menu is friendly with westerners as there are many nice pictures for you to order. You may need to wait for 20 minutes or even an hour after you get the waiting number. Luckily it is situated near West Lake which will not let you bored as you could walk around the lake leisurely. Some free snacks are prepared for customers who would like to sit there and wait. When go to Hangzhou, make sure you do not miss it!

Add:

2F, No.3 Hubin Road, Shangcheng District, Hangzhou

Opening Hours:

10:00-22:30

Price Range/person:

$10

Getting there:




Take Bus NOs 25/ 55/206/212/216/ 251/ 290/900/ k105/ k7/ k92/ y1/y8 and get off at Hubin Stop (湖滨站).

Weizhuang Zhiweiguan Restaurant (Yanggongdi)

If you are looking for some Hangzhou local snacks in a good environment, you will not be wrong in Weizhuang Zhiweiguan Restaurant(知味观.味庄). It is an old restaurant with a history of 100 years. Specialized in making local snacks and dishes, Zhiweiguan has several locations in Hangzhou. Weizhuang Zhiweiguan Restaurant on Yanggongdi Road is the most popular one as it is near West Lake Colored Port View Fish Garden.

Six stiles make up the restaurant in tranquil surroundings. Must-try dishes there are

Sugar vinegar pork ribs, Dragon Well Tea Cake, duck and Braised sliced pork. Though most staff cannot speak English, they offer English menu which might help you have some ideas of what the dish may look like.

Add:

No.10-12 Yanggongti, Xihu District, Hangzhou

Opening Hours:

10:00-21:00

Price Range/person:

$17

Getting there:




Bus NOs K7/K55/K194/60/15 reach there
What to Buy in Hangzhou
Meijjiawu Tea Plantation (Dragon Well Village)

Tea is a local product, which tastes well with delicate fragrance. It is one of the most famous teas in China with good quality. Longjin Village (Dragon Well Village龙井村) is blessed with good location good for producing tea, thus becomes a popular place to buy tea at reasonable price.

It is a large tea plantation where you could relax and breathe fresh air. Shops are available and local families sell tea. If you go there, always remember to bargain. The characteristics of quality tea leaves are bright color, fresh fragrance, tasting refreshing sweet with flat and smooth shape.

Add:

No.1, Meiling South Road, Xihu District, Hangzhou

Getting there:

Bus NOs 324/837/y4 and tourism Bus NO.4 pass there.







If you have any more questions about hangzhou private tours,please feel free to contact HangZhou Private Tour Studio by
E-mail:hht@hzprivatetour.com

quick reply in 1 hour !

tel:+8613567161784 johnwu

Wechat ID :hangzhouenglishtour

qq 513694106

msn:johnhuu@126.com
whatsapp:+8613567161784
513694106
Email: hht@hzprivatetour.com
wechat:hangzhouenglishtour
Address:A1815,New youth Palza,8# jiashan road Hangzhou,Zhejiang,China
24-hour touristline:
+8613567161784(English)