Top 10 things to do in Shanghai

Shanghai is located in the central-eastern China, confronting the East China Sea. Roughly, Shanghai is sectioned into two parts: Pudong ( to the east of the Huangpu River ) and Puxi ( to the west of the Huangpu River ). Most of the historical and scenic sites in shanghai are in Puxi while Pudong is the new development area teeming with plentiful futuristic high-rise constructions.

If it is your first time to visit Shanghai, then you may wonder what are the most important things to do in Shanghai for a short trip of 2-3 days. There is huge information on what to see in Shanghai, which you may get either from some popular travel guide books or numerous quality websites including tripadvisor.com and about.com. As local travel advisors, we are happy to present you our version of Top 10 Things to Do in Shanghai for your reference. You are kindly advised to visit Shanghai per your personal taste. Hope our Top 10 Things to Do in Shanghai will be helpful in planning your Shanghai trip.




Top 10 Attractions or Things to Do in Shanghai


The BundThe Bund (Waitan) is one of the most noted architectural symbols of Shanghai. The word "Bund" derives from an Anglo-Indian word for an embankment along a muddy waterfront. The Bund in Shanghai was first used when the first British company opened a office there in 1846. The Bund, or the waterfront,is now surrounded by about 50 various buildings of different architectural styles including Gothic, Baroque, Romanesque, Classicism and the Renaissance along from No.1 to No.33, west of No.1 East Zhong Shan Road.
Admission Fee: Free
Bus Route: 20, 22, 37, 42, 55, 65, 71, 123, 503




Shanghai Nanjing RoadNanjing Road is a walking street that is always packed with people waching other people. It is regarded as the first commercial road in Shanghai. The 5.5-
km long Nanjing Road is the most bustling and prosperous street in Shanghai. It was first built in 1851. It is said that there were only four department stores along the street. Now Nanjing Road has turned into the number one site for shopping in the city. Extending from the Bund to Jing An Temple, its eastern end has an all-weather pedestrian street. The large traditional stores no longer dominate the market since modern shopping malls, specialty stores, theaters, and international hotels have mushroomed on both sides of the street.
Transportation
Bus Routes:
East Nanjing Road: 37, 65, 66, 108, 123, 135, 220, 251, 305, 306, 307, 314, 317, 330, 868, 910, 928, 929, 940, Tourist Bus Line 8 or Subway Line 2 and get off at East Nanjing Rd. Station.
West Nanjing Road: 36, 57, 76, 128, 148, 206, 304, 323, 451, 738 or Subway Line 2 and get off at West Nanjing Road Station.

People's SquarePeoples square is located in the center of Shanghai, covers 140,000 square meters, surrounded by the municipal government office building, the Shanghai Museum, Shanghai City Planning Exhibition Hall and the Grand Theatre. There are a huge green area and trees, encircled by all kinds of buildings on all sides. All of these buildings make up a beautiful view. In the center of the square is a smart musical fountain. Acrossing through the square is a 100-meter-wide pathway from the west to the east. Many townsfolk go to the square for a walk. The Square is particularly spectacular at night, when steam appears to seep out of the roof of the museum and the light bounces off the glass walls of the Grand Theatre.
Address: No. 300, People's Avenue, Huangpu District
Transportation: Metro: Line 1, Line 2, Line 8 and get off at People's Square

Shanghai Xintiandi ( How to Visit Xintiandi )Xin Tian Di (or spelled "Xintiandi") will be something like Lan Kwai Fong in Hong Kong and Clarke Quay in Singapore. It is is situated at Lane No.181 of Taicang Road Shanghai, the old Shikumen residential area near "Zhonggong yidahuizhi" ( site of the 1st National Congress of the Communist Party). It occupies an area of about 30,000 square meters. It was a former old Shikumen which has been given restoration. Now it is a good blend between the modern and new buildings around and the old area, hence Shikumen Xintiandi. The past and the present and the East and West makes Xintiandi very charmful, making it into the most ideal site for visitors home and abroad to have a good view of the history, culture, and modern lifestyle of Shanghai.
How to get there
Take bus no. 42, 146, 911, 926, 932 or Tunnel 8 and get off at Huaihai Road or Huangpo South Road Station. Take Subway Line 1 or Line 8 and get off at Huangpo South Road. Station.

LujiazuiLujiazui literally means "Lu's Mouth". It is located in the Pudong New Area on the eastern bank of Huangpu River just acrossing the Bund. Lujiazui is one of the four economic districts in Pudong New Area. The other three economic districts are Waigaoqiao Free Trade Zone, the Jinqiao Export Processing Zone and Zhangjiang Hi-tech Park is a special area for technology-oriented businesses. Lujiazui is teemed with the futuristic, avant-garde buildings - Oriental Pearl Tower, Jin Mao Building, Bank of China Tower
and Shanghai World Financial Center.
How to get there
Subway Line 2, 4 and 6, get off at New Century Avenue Station


Tianzifang is an artsy area that has developed from a renovated residential area (old Shanghai shikumen buildings) in the former French Concession area of Shanghai. Now it houses bars, cafes, crafts shops, design studios, galleries and boutiques. Many local residents still live in the narrow lanes. Just be mindful and respect their privacy.
How to get there
Public Bus: Bus 24, Bus 96 (from West Jianguo Road); Bus 17, 41, 146 and 786 (from South Shaanxi Road); Bus 869, 968, 932, 786,933 and 36 (from South Chongqing Rod) Metro: Take Metro Line 9 and get off at Dapuqiao and exit from Exit 1.



Close to the gardens is Shanghai's bazaar, a great number of small streets and lanes where vendors sell their products and food stuffs to the tourists and local people. It is called garden "Yuyuan" - because "yu" in Chinese means "peace and health"-- a place of peace and comfort in the heart of busy Shanghai. It can date back to the Ming Dynasty. Now a hot tourist destination, Yuyuan Garden was first built as a private garden created by Pan Yunduan. He used almost 20 years and all of his savings to construct a garden in an attempt to please his parents in their high ages.
Entrance Fee: RMB 40
Open Hours: 08:30 to 17:00
Transortation: Bus no.11, 26, 64, 730, 926, 980, 932
Location: 132. Anren Street, Shanghai

The Acrobatics at Shanghai are not to be missed. They are held each night and last for about 2 hours. The Shanghai Acrobatic Troupe, established in 1951 is one of the best in China. It frequently tours internationally and perform routinely at Shanghai and other cities in China. An acrobatic show has become one of the most popular evening entertainments for tourists in Shanghai. You can enjoy gravity-defying contortionism, juggling, unicycling, chair-stacking, and plate-spinning acts at the following stages. Acrobtics Theatres in Shanghai:
Shanghai Center Theatre:
Address: No. 1376 Nanjing Road (W), Shanghai 021-62798600
Shanghai Circus World - Middle Theatre:
Add: Gonghe Xinlu 2266, Baoshan District, Shanghai 021-56656622‎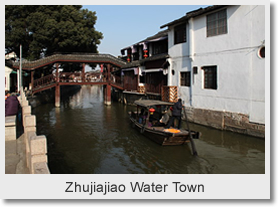 Zhujiajiao is an ancient water town also known as the Shanghai's Venice. Zhujiajiao is full of the old buildings combined with the water canals, really authentic water village which represent the old Shanghai. A boat trip down the river and then walk through the small shopping streets, cross the amazing bridges, visit the beautifully laid out gardens and old houses. There are great opportunity for some great photographs
Public Bus:
Special Bus Line from People's Square (RMB 9, 1 and 45 minutes);
Special Bus Line from Puan Road Bus Station( RMB 12, 1 and 10 minutes)
Extended Metro Line 2 of Zhuxu Line: RMB 6, 1 and half hours

Huangpu River winds about 114 kilometers from Dingshan Lake, the source, northward to Wusong Kou, where it meeets with the Yangtze River. 40 km of the river is within the area of the big Shanghai. It is only about 400 meter wide and 9 meter deep, but it holds about one third of the China's total international trade. Huangpu River is the sign of Shanghai. It supplies water to the 13 million people in the metropolis and is also important for navigation, fishery, tourism and receiving wastewater.
Shiliupu Wharf
Add: Zhongshan Donglu 127 & 219 by the Bund
Tel: 021 - 63188888