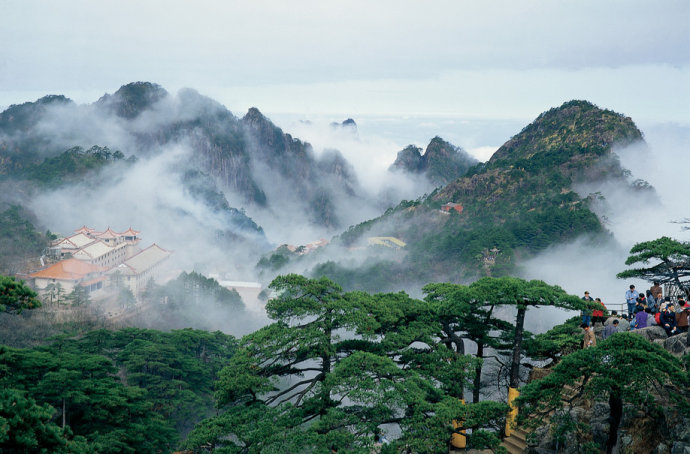 Yellow Mountain (Huangshan) - "The loveliest mountain of China"
Huangshan city is named by Mt. Huangshan,(yellow mountain) the loveliest mountain of China. Physical fitness and efforts would be required to enjoy its beauty, but will be well paid off. The scenery of Mountain Huangshan is breathtaking with bizarre rocks, pine trees, sea of clouds, gorges sunrise view, let alone the ancient village of Hongcun and Xidi. For both photographers and hikers, Huangshan is a paradise. Hangzhou Private Tours Studio has selected many Huangshan tour routes that have been required or enjoyed by our customers for many years.
5-Day Historic Shanghai Tour with Extension to Huangshan
Tour route: China : Shanghai - Huangshan
Tour Style: Private Tour (No Join-in Group Tour)
Price inclusions: All transportation mentioned in itinerary (flight, train, ship, private car, etc.); private guides & drivers, hotels, meals (based on your meal plan), and all service charges & taxes.
Travel date: private tour with flexible travel date.
Upon your arrival at Shanghai, China's most cosmopolitan city, your personal guide will meet you and escort you to your hotel. The rest of the day is yours to relax, or step out into this amazing city for an adventure on your own.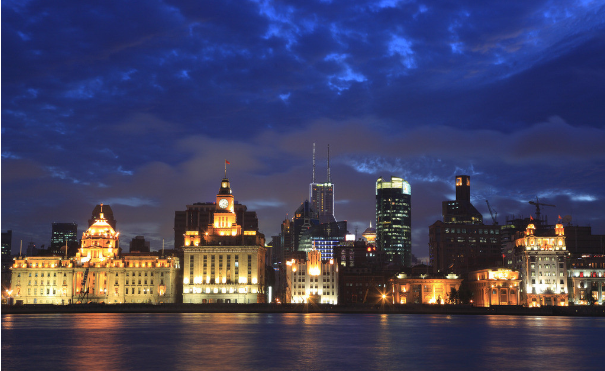 Day 2
Shanghai, Yu Garden & Shanghai History Tour
On this day you will visit the Shanghai Urban Planning Exhibition Center, which chronicles Shanghai's past, present and future, then take a stroll through the Yu Garden. After, you can observe local people's life at the Yuyuan Bazaar and immerse yourself in the peaceful atmosphere of the Jade Buddha Temple.
urban planning exhibition center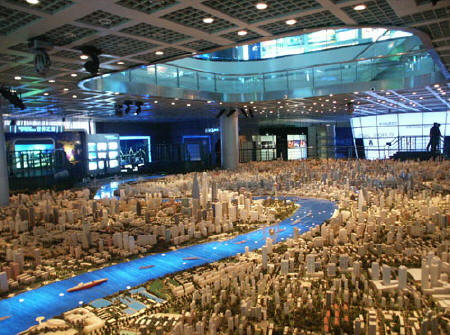 Day 3
Shanghai-Huangshan, The Bund & Jinmao Tower
After breakfast, you will walk down the Bund along the Huangpu River and visit Nanjing Road, and then get a bird's eye view of Shanghai from the Jinmao Tower. Be transferred to airport for your flight to Huangshan. Upon your arrival at city of Huangshan (Tunxi), our local guide will meet you and escort you to your hotel. The rest of the day is free at your own leisure.
Jinmao Tower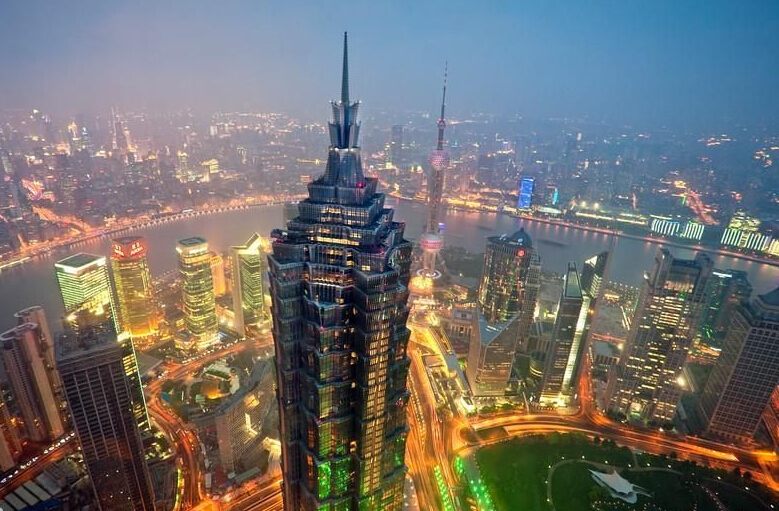 Day 4 The Yellow Mountains Tour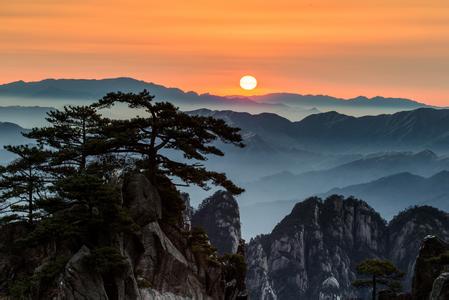 Sunrise on the Yellow Mountains
Today you will spend a day and a night on the Yellow Mountains. It takes about one hour from central Huangshan City to reach the foot of the Yellow Mountains. Your appreciation of the graceful Yellow Mountains begins with the Yungu cable car (a round-trip cable car is included). Don't miss the magnificent scenery along your 10-minute journey.
Your guide, who spends over 200 days on the mountains every year, will customize the route for you.
Day 4
The Hongcun and Tunxi Ancient Street Tour
hongcun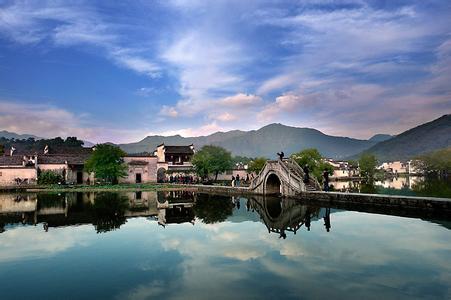 Day 5.Huangshan to hongcun village and go to airport or bus staion .
The Hongcun Village
Rise early and take the chance to photograph the sunrise at Refreshing Terrace, which is highly recommended by our past customers who have visited the Yellow Mountains. After breakfast in the hotel, walk to Lion Peak to see the Dawn Pavilion, Stone Monkey Watching the Sea, and all shapes of pines along the route. Your discovery of the Yellow Mountains will finish with the Yungu Cable Car journey. Then it is time to enjoy an authentic Hui style lunch in a local restaurant.
You will continue on to one of China's most beautiful ancient villages — Hongcun Village, a charming ancient village with a history of over 800 years. The village will show you the original Hui style architecture (a type of traditional Chinese architecture).
After that you will be transferred to Tunxi Ancient Street (about one hour's drive). There you can enjoy a leisurely walk among the ancient buildings and look around to search for a bargain.
Your guide will handle your luggage, transfer, and accompany you to the train/bus station or the correct check-in desk at the airport for your departure.
Trip Notes
1. Trekking Map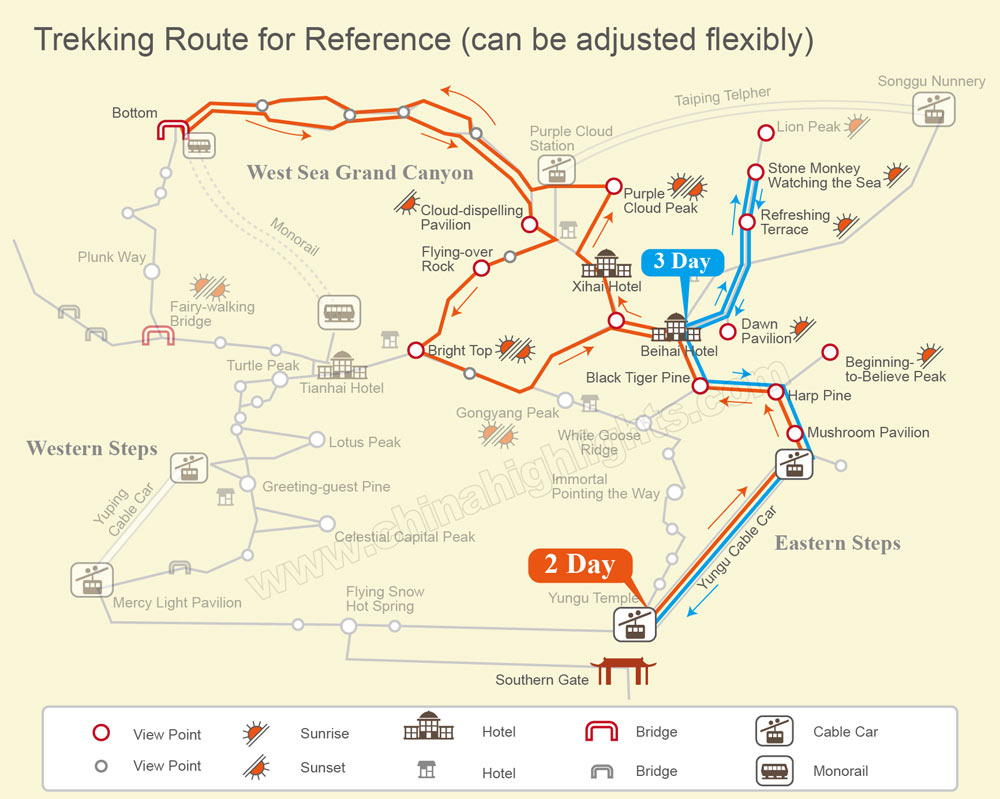 Hong cun information:
To see old Ming and Qing courtyards, beautiful preserved countryside, shop for souvenirs and country products, and sightsee, walk and dine, go to this amazing small village and the nearby villages and countryside. Though it is only 28 hectares in size, it has landed a place in the World Heritage List for its long history, country scenery, and well preserved buildings dating hundreds of years.
Chinese: 宏村 Hóng cūn /hong tswnn/
Age: About 900 years
Population: 1,500 people
Highlights: charmingly landscaped rural architecture, Chengzhi Hall, ponds, countryside
Hong Village reflecting pond
Popular activities: Sightseeing, walking in the countryside, shopping, dining, photography
Suggested time for a visit: half a day
Best times: March and April for spring scenery, October and early November for autumn scenery
Must sees: Moon Pond, Reflecting Pond, the countryside in fall, the flowers in spring
Suited to: history lovers, nature lovers, hikers
Claim to fame: set of the epic kung fu movie Crouching Tiger, Hidden Dragon.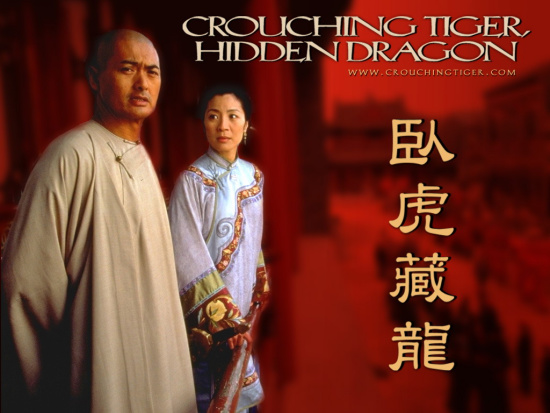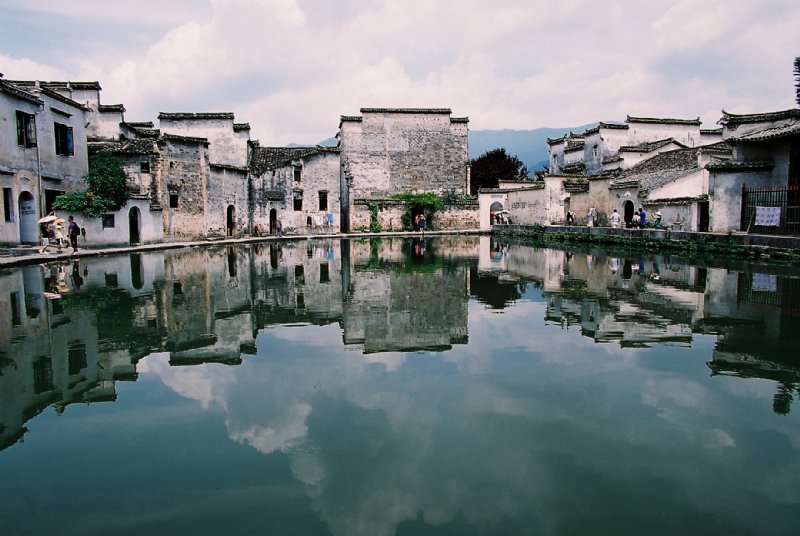 Best Time to Go
March and April is the right time of the 'sea of flowers' in the countryside around it and Tachuan Village that is next to it.
Early November is the right time for vivid autumn scenery around it and Tachuan.
The countryside around Hongcun is remarkable and worth a walk and a visit any time of the year. There is a noted bamboo grove within walking distance.
But in the spring, you can see the village nestled in yellow rape field flowers, and in the fall, the village is highlighted by the red leaves on the trees.
Tachuan is a small village only 2 km or 1 mile away noted for even better autumn scenery. People can take a 30 minute sightseeing stroll to it in the peasant countryside. Tachuan is famed for the beautiful colors in the countryside in late October and early November. See Nearby Attractions below.




For an energetic hiker in good shape: Descend the cable car, walk for about 40 minutes to arrive at the hotel, and see Harp Pine, Beginning-to-Believe Peak and Black Tiger Pine along the way. After buffet lunch at the hotel, explore the West Sea Grand Canyon. The whole hiking trip lasts for over three hours, covering the 1st ring, 2nd ring, and bottom of the canyon. If time and strength permit, you can further explore the Flying-over Rock and watch the sunset at Bright Top. It takes about 40 minutes to get from Bright Top back to the hotel.
For beginners, children, and senior citizens: Get off the cable car, walk for about 30 minutes to the hotel, and see Black Tiger Pine and Dream Flower Pine on the way. After buffet lunch at the hotel, walk to West Sea Grand Canyon. You can decide how long you would like to walk for: reaching the 1st ring and returning takes about two hours; reaching the 2nd ring and returning takes about 2½ hours. Then enjoy the sunset at Cloud-dispelling Pavilion. It takes about 30 minutes to get back to the hotel.
Good to know:
Travel light! Please take a small bag or backpack for your overnight stay on the mountain. Your guide will assist you with storing your big suitcase in your hotel in Tunxi. You can collect it on your way back. You can also store the luggage at the foot of the mountain. The cost is about CNY20 (US$4) for each piece.
Short Cut. Trekking in the West Sea Grand Canyon can be a big challenge, especially to your knees. A monorail is available to help you save time and strength. It runs between the bottom of the Canyon and the main peak area, which is about 300 meters (0.2 miles) from the Baiyun/Tianhai Hotel. The cost is CNY80 (US$13) per person.
Accommodation
One night on the mountain: Beihai Hotel (superior class)/Xihai Hotel — South Wing/New Wing (deluxe class).
If you have any more questions about Shanghai and Huangshan (yellow mountain )Private tours ,please feel free to contact HangZhou Private Tour Studio by

E-mail:hht@hzprivatetour.com
( quick reply in 1 hour )
tel:+86 13567161784 johnwu
wechat ID: hangzhouenglishtour
How to get to Huangshan
From Shanghai:
1. By bus:
| | | | |
| --- | --- | --- | --- |
| Bus number | Departure--Terminal | Time | Price |
| B0109 | Shanghai South Bus Station--Huangshan Bus Station | 08:40-14:40 | RMB 110 |
| B0566 | Shanghai South Bus Station--Huangshan Bus Station | 13:00-19:00 | RMB 103 |
| B0603 | Shanghai South Bus Station--Huangshan Bus Station | 15:12-21:22 | RMB 110 |
2. By train:
| | | | | | | | | | | |
| --- | --- | --- | --- | --- | --- | --- | --- | --- | --- | --- |
| Train number | Train type | Departure station | Terminal station | Departure time | Arrival time | Used time | Normal seat | VIP seat | Normal bed | VIP bed |
| K782/K783 | Air-con Express | Shanghai Railway Station | Huangshan Railway Station | 12:22 | 00:27 | 12h 5m | RMB 94 | RMB 147 | RMB 175 | RMB 264 |
| K8418/K8419 | Air-con Express | Shanghai Railway Station | Huangshan Railway Station | 17:49 | 09:05 | 15h 16m | RMB 94 | RMB 147 | RMB 175 | RMB 264 |
3. By private van: We can provide the transfer service from Shanghai to Huangshan.
From Beijing:
1. by plane:
| | | | |
| --- | --- | --- | --- |
| Flight number | Departure--Terminal | Time | Price |
| MU 5170 | PEK-TXN | 10:55-15:15 | RMB550 -RMB1100 |
| CA 1551 | PEK-TXN | 18:40-20:30 | RMB550 -RMB1100 |
2. by train:
| | | | | | | | | | | |
| --- | --- | --- | --- | --- | --- | --- | --- | --- | --- | --- |
| Train number | Train type | Departure station | Terminal station | Departure time | Arrival time | Used time | Normal seat | VIP seat | Normal bed | VIP bed |
| K45 | Air-con Express | Beijing Railway Station | Huangshan Railway Station | 11:45 | 07:33 | 19h 48m | RMB 182 | RMB 323 | RMB 289 | RMB 511 |
From Hangzhou:
1. By bus:
| | | | |
| --- | --- | --- | --- |
| Bus number | Departure--Terminal | Time | Price |
| D005 | Hangzhou West Bus Station--Tunxi Bus Station | 08:45-12:45 | RMB 85 |
| D018 | Hangzhou West Bus Station--Huangshan Bus Station | 09:30-13:00 | RMB72 |
| D020 | Hangzhou West Bus Station--Tunxi Bus Station | 09:40-13:10 | RMB 72 |
| D025 | Hangzhou West Bus Station--Huangshan Bus Station | 09:50-13:20 | RMB 72 |
| D033 | Hangzhou West Bus Station--Huangshan Bus Station | 10:40-14:10 | RMB 72 |
| D041 | Hangzhou West Bus Station--Tunxi Bus Station | 11:50-15:20 | RMB 72 |
| D050 | Hangzhou West Bus Station--Huangshan Bus Station | 12:40-16:10 | RMB 72 |
| D055 | Hangzhou West Bus Station--Tunxi Bus Station | 13:10-16:40 | RMB 72 |
| D057 | Hangzhou West Bus Station--Tunxi Bus Station | 13:20-16:50 | RMB 72 |
| D061 | Hangzhou West Bus Station--Tunxi Bus Station | 13:30-17:00 | RMB 72 |
| D069 | Hangzhou West Bus Station--Tunxi Bus Station | 15:30-19:00 | RMB 72 |
2. By train: There's no train from Hangzhou to Huangshan
3. By private van: We can provide the transfer service from Hangzhou to Huangshan